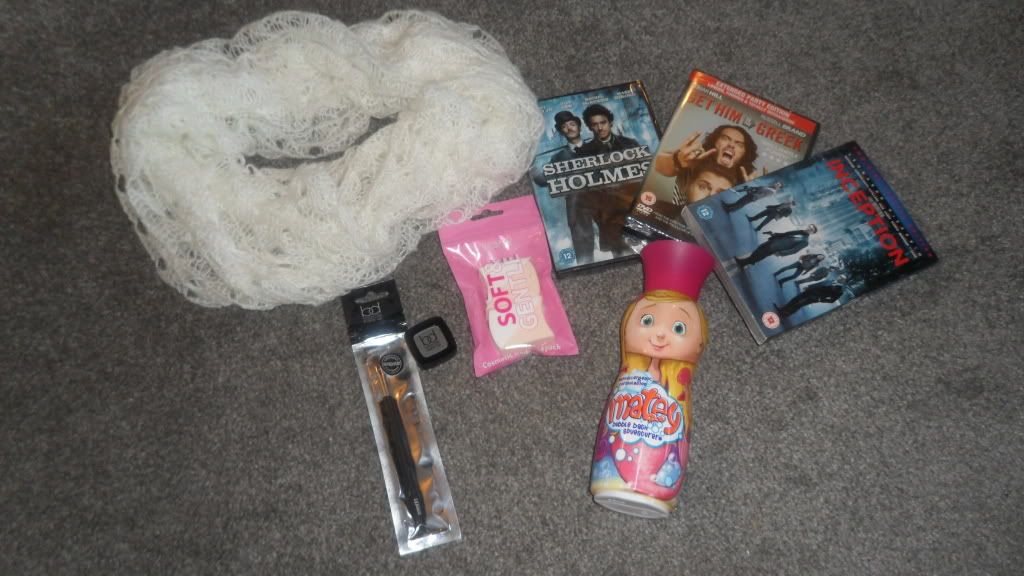 Took a little trip to
Tesco
with the mother earlier as we'd run out of bread, milk and other bits and pieces. We were wandering the aisles of Tesco, just browsing all the random bits & bobs, and ended up buying these items.
- A white cobweb snood, very cosy and soft. My other snood from
Topshop
is so worn, so a new one was a necessity! White is such a neutral colour and goes with majority of outfits, so i hope to incorporate this into many of mine. As much as i love scarves, snoods are just so much more practical!
- I realised i don't own any eyeshadow, well none that i actually use, so i decided to get this dark grey eyeshadow as it's probably going to be easiest to wear and experiment with, i've never been a big eyeshadow fan, i usually just opt for eyeliner and mascara, but i'm all open for trying new things. This eyeshadow is from the BD(Barbara Daly) range at
Tesco
, and i got this eyeshadow brush to accompany it, also from the BD range. I also got this pack of 4 cosmetic wedges to apply my foundation with, i prefer these to a foundation brush or my fingers as an applicator as i think it provides more of a natural look.
- A few
DVD's for all the family, Sherlock Holmes, Get him to the Greek and Inception. I've read amazzing reviews on all three of these films, and have actually watched Get him to the Greek which is a hilarious film, Russell Brand is amazing in it. Many people have said that Sherlock Holmes is oen to watch, and everyone always talks about how amazing Inception is, so i want to see what all the hype is about. Will write reviews on them once watched.
-
Bubblebath, the key ingredient to any relaxing bath. I haven't used bubblebath since i was younger, i had severe reaction to a make and it just totally put me off, and its annoying considering i have quite sensitive skin, so i've got to be so careful with products. I opted for this bubblebath which was infact from the Kids Range and is hypoallergenic (better to be safe than sorry aye!?) The packaging is so cute and childlike too. Really hoping i don't react to it, but it should be fine, also smells lovely!
I won't be doing an outfit post for you today, i'm in leggings and a baggy jumper, my hair is tied up and in dier need of a wash and i have no makeup on. I'm really exhausted today and don't really feel like facing the camera. I had the doctors this morning which went well and my weekly blood tests start next Wednesday.. eek scary times, i hate needles!